Made in America.
Increasing production at Stabicraft's Port Angeles facility has propelled manufacturing of the Limited Edition 2250 Ultra Centrecab Alpha in full swing! Meet Chris and Sarah who are the owners of the first Stabicraft® boat built in the U.S.A and are the first members of The Limited 100 Club!
Raised around the Missouri River, Montana, Chris grew up fishing in a 16 foot Crestliner. For the last 13 years Chris has booked 12 offshore tuna fishing trips off the coast of Washington, but due to the changing weather only two of those trips were on the original booked date, it was this inconsistency which led Chris to landing his dream boat. Today him and his wife, Sarah own the first Stabicraft boat manufactured in the USA.
"You know, I would've bought a Stabicraft regardless but as far as having the first one made in the U.S, it was beyond a selling point for me. As soon as he offered it there was no question whether or not we were going to get this boat."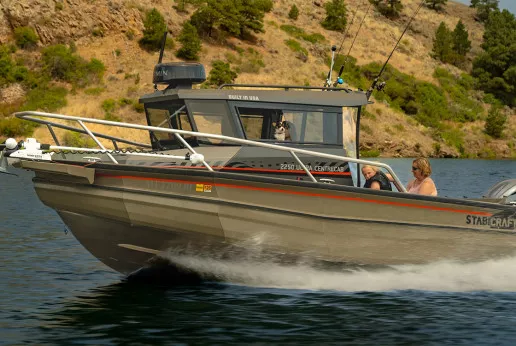 Sarah wanted a boat that would provide safety and stability for her families adventures at their local lake. Chris wanted an aggressive offshore boat to take tuna fishing. The couple agreed on the 2250 Ultra Centrecab Alpha as it's a versatile boat that the family uses on local lakes and offshore. They've named their boat 'The Rusty Hook' and have taken their kids and dogs out several times. Chris now has the capability to go 60 miles offshore tuna fishing with his friends.
Stabicrafts new manufacturing facility in Port Angeles, Washington State has been working on building the limited 2250 Ultra Centrecab Alpha. To mark the first 100 Stabicraft boats built in the USA facility each owner is inducted into 'The Limited 100 Club' making Chris and Sarah the first members!