the Versatility of a stabicraft Boat.
Jeramey James' Stabicraft 2500UCXL is a versatile boat that embodies his passion for exploring and capturing the beauty of the Pacific Northwest.
Passionate photographer Jeramey James, driven by his love for exploring the Pacific Northwest, proudly owns a Stabicraft boat.
In his quest for a vessel that could safely accommodate clients on sightseeing trips and adventure into even the most remote and challenging areas like mountain lakes, Jeramey set his heart on the Stabicraft 2500 Ultra Centrecab XL.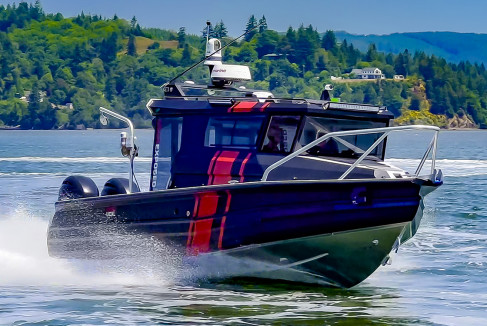 Although Jeramey grew up ocean and river fishing, this project primarily focused on creating a boat for exploration and capturing the beauty of the region's wildlife and landscapes through photography.
Jeramey uses his aluminium boat, 'Overexposed', as a photography platform and monetises it by offering clients the opportunity to join these unreal experiences.
As an ambassador for Raymarine, his boat is decked out with top-notch Raymarine equipment. Jeramey prioritised navigation, safety, and visibility when customising his boat. The 2500 Ultra Centrebcab XL is powered by twin Yamaha 200 outboard engines, featuring an Optimus360 steering system, providing pinpoint maneuverability for wildlife observation and photography.
Jeramey James' Stabicraft 2500 Ultra Centrecab XL is an epic beast. It's not just a boat; it's a floating studio for photography, a fishing boat, and an exploration vessel. Stabicraft boats know no boundary, offering limitless, unique experiences!