ADVENTURE WITH STU AND JARROD ONBOARD THEIR 1450'S
The Captain caught up with Stu and Jarrod - A couple of mates with 1450 Stabicraft® Explorers, hooking squid, taking waves overboard, having brews and laughing about their adventures.
Stu and Jarrod from Seaford, Victoria, took The Captain to Walkerville for an authentic 1450 Stabicraft adventure. A slight mishap retrieving the boat in the pumping surf resulted in Jarrod's boat taking some waves over the stern. Jarrod isn't bothered because he trusts the stability and craftsmanship of the aluminium boat. With the help of a self-draining deck, the water rushes out while Jarrod and Stu speed things up by scooping the excess water out with buckets.
"I got the Stabicraft for the safety, stability and basically the usability." Stu says.
Stu likes to cast lures before diving, and Stabicraft® boats offer him the stable platform needed to do so. He also enjoys that the boat is made from aluminum and can be knocked around without worrying about damaging fibreglass.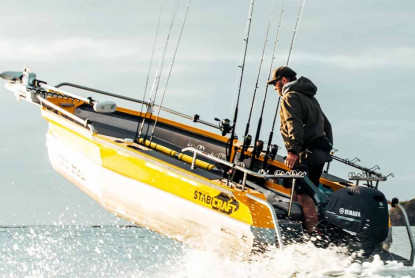 Jarod is a massive fan of the construction and how the 1450 Explorer performs. Specifically, the foam-filled pontoons remove a lot of noise when crashing head-on in the sea. Paired with the Yamaha F40 four-stroke, he is capable of 28 knots and 25 knots with three people plus extra gear on board. Stu has paired his 1450 with a Mercury tiller with no rigging, steering to fail, and control cables. When he wants to upgrade, it is as easy as unscrewing four bolts and changing the motor.
One of their past fishing trips had them punching through four-meter swells with confidence. The two friends are pleased they can get to where they want to go and back in one piece because Stabicraft® boats are safe and robust and offer priceless experiences.