TASSIE DEVILS 2100 SUPERCAB
The Captain's juices flow like the east coast of Tasmania. It's raw, rugged and bustling with big bluefin - usually.
As loyal Captain readers have pointed out, we're not always the most reliable sailor on the seas. Let us explain. In the back of every issue, we publish a preview of what's in the next issue. Sometimes, we actually deliver on those promises. Not always. These broken pledges don't just end with our readers. We often make big promises to boating manufacturers. On one such occasion, we promised a 100kg (220lb) bluefin tuna would be caught from a Stabicraft® (hell, they were catching them in stormwater drains at the time). Alas, we fished for an entire week, lost two jumbos and went near crazy in the pursuit of glory before waving the white flag in defeat and publishing a story on the fishing grief cycle. Can't say we didn't try.
So it comes as a surprise when the brains trust at Stabicraft® asks us to head down to Tasmania and catch a bluefin (or swordfish) out of a Stabicraft®.
"Er, you do remember what happened last time, right?" The Captain enquires.
"It's alright fellas, this time I'm going to send over some fishing gurus from NZ. They'll get the job done," the Stabi boss responds. After a quick back and forth we agree to the plan, albeit with deep-fried and battered egos.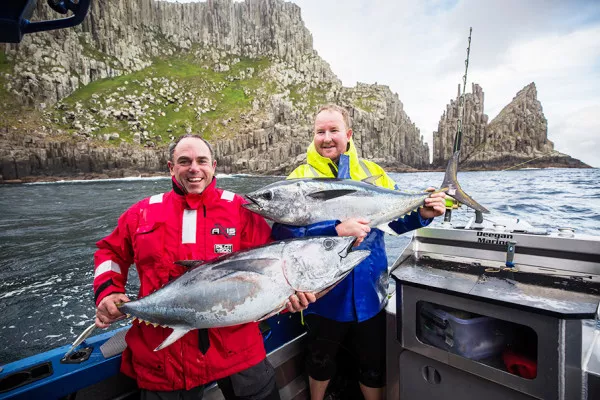 THE BOAT The dream team arrives fresh from Auckland airport keen to "show us Aussies how to catch a fish". All we need now is a seaworthy Stabi®. Enter Hadley Deegan. No stranger to stormy southern waters, Hadley runs Deegan Marine, in Ulverstone on the Tasmanian north-west coast. The dealership was pioneered by Hadley's old man, Lindsay, more than 40 years ago, and it's still going strong. Hadley suggests a Stabicraft® 2100 Supercab will be perfect, explaining it has "Big boat performance and safety in a package that is easy to tow and manage".
"We'll have plenty of protection from the hardtop and cabin without losing visibility," he continues. "She also has a generous cockpit, perfect for carrying around all your camera gear and those Kiwi lads."
That was all we had to hear and after a couple of weeks planning logistics, here we are bouncing out of St Helens aboard a factory-fresh, metallic blue 2100 with a Honda 200HP V6 purring out the back. The Kiwi lads, Josh Holmes and Jed Radaly are also on board, rugged up in the cockpit preparing the rods and rigging baits out the back. It's a 12nm run to the shelf, but 20nm out to the swordfishing grounds. This gives us a good chance to chat to Hadley about his history with Stabicraft® boats.
He first experienced a custom-built rigid buoyancy boat almost 20 years ago and was blown away by the performance and safety, even in typical Tasmanian offshore conditions.
"That led me to Stabicraft's production range a few years later and I haven't looked back. Back in the day, it was more about the Stabi's personality than its looks. But these days they've evolved into quite the sexy boat with unique styling, lines and funky colours, while holding onto their original DNA," Hadley says.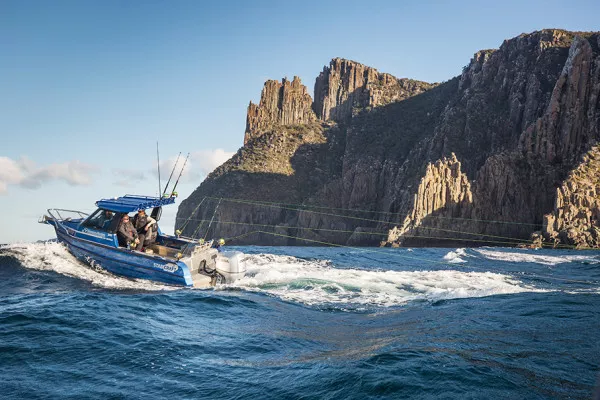 THE DROP When we finally arrive at the mark, Hadley gets busy adjusting the Garmin display. The Stabi is fitted with a GPSMap 952xs and a GSD 26 sonar module that turbocharges the performance of the 1kW dual-channel CHIRP transducer. We spend the day prospecting but end up heading home, having got just one hit from an unknown denizen of the deep.
The weather is predicted to deteriorate over the next few days, so we cut our losses in St Helens and head to trusty Eaglehawk Neck in search of barrel-esque bluefin. The handy thing about Eaglehawk is that you don't need to go far to catch fish. The Captain can attest to this not being bulldust, having caught an 85kg (187lb) bluefin 10 minutes from the ramp several years earlier.
THE EAGLE HAS LANDED We slide the 2100 onto the Easytow trailer and begin the 3.5- hour journey south. The drive from St Helens to Eaglehawk Neck along the east coast is nothing short of spectacular, although Jed and Josh have never seen so much roadkill in their lives. Welcome to Australia, guys.
We check into the Lufra Hotel and feel as if we've gone back in time, surrounded by plush pile carpet and veneer finishes. But there's cold beer and chicken parmigiana, so we're not complaining.
The next morning, we're up at the crack of dawn heading straight to Hippolyte Rock, aka the "Hippo", a granite spike that shoots 65m (213ft) straight up out of the ocean like The Thing's nipple. The only difference is, this nipple smells like a mixture of bird shit and seal shit. Aroma aside, it's a damn beautiful spot to fish and notorious for big bluefin.
"They're either on like crazy at the Hippo or not at all," Hadley reckons. Unfortunately for us it's "not at all" and we spend the rest of the afternoon exploring the coastline before finding a sweet spot to anchor and cook up a feed in Fortescue Bay. After we stuff our faces with freshly cooked hotdogs, courtesy of an onboard JetBoil, we head back to the Lufra to work on our game plan for the next day.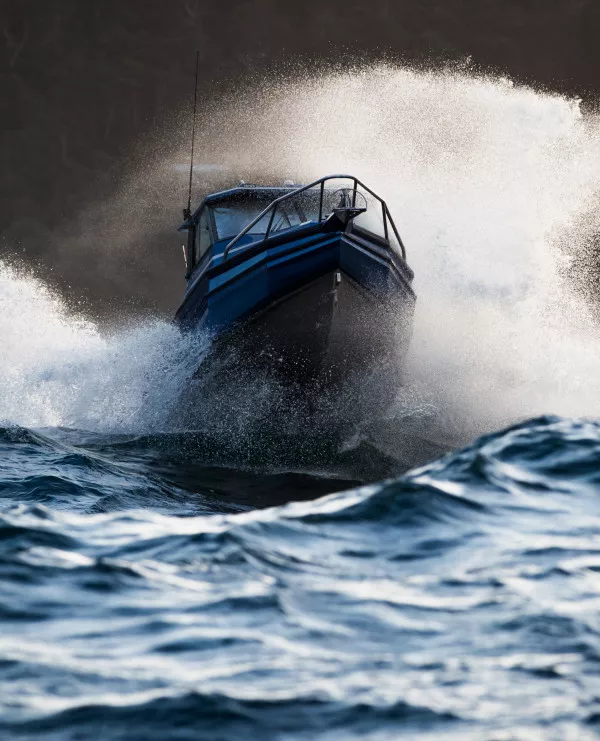 BLUEFIN OR BROKE It's our last day in Tassie and we still haven't turned a reel. Looks like we were going to disappoint Stabicraft® once again. At least this time we could pin it on the "Kiwi fish assassins". The weather has turned to complete custard, leaving us with only one spot to fish — Tasman Island. The quickest way to get there is to launch at Port Arthur and chug out around the corner.
We troll for the morning until the second boat in our convoy (Mark Hately's 2400) finds a patch of birds and calls us over. The bad news is that the birds are feeding away from the protection of Tasman Island, in absolute slop. Hadley, hanging on to the wheel with white knuckles, tells the story best.
"We can see a few birds working out wide of Tasman and Mark has obviously seen this as well," he recalls. "As we make our way towards the action, we get the call from Mark that he's hooked up. But we can't see him until we get really close. Then, rising to the top of a big swell heading into the sea, as the spray clears, we spot him in the trough behind us, surfing past seals, birds and fish that are all in a surface-feeding frenzy. I time our turn and try to judge where the fish are going to be. But all you can see is the back of the swell in front of us. The next big wave passes underneath and as we rise I can see the action what looks like four stories below. I give Jed the yell to get ready as we shoot past the edge of the frenzy and we're on. Jed takes the rod and goes into battle, doing a great job to stay on his feet, barefoot on the tread plate. Those Kiwis are pretty hard-core! I try to position the boat and negotiate the sea while he's busy getting smashed by white water and spray. There's no time to go easy on this fish because we're surrounded by seals. Jed cranks up the drag and surfs the fish to the boat in record time for The Captain's crew to make an awesome gaff shot." Phew! Mission accomplished. Although it wasn't the 100kg (220lb) barrel we promised Stabicraft®, there's nothing a wide-angle camera lens can't fix. Just don't tell the Stabi® crew.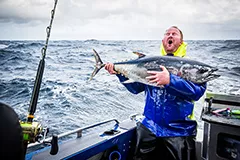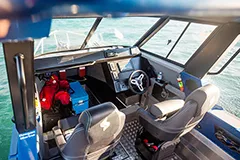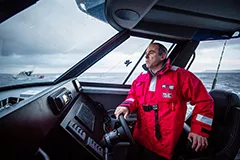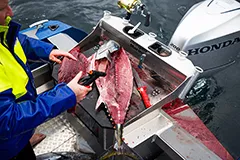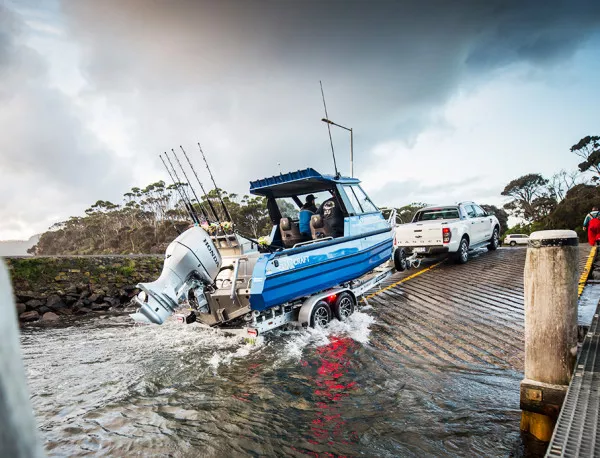 SPECIFICATIONS
• Length: 6.4m (20.9ft)
• Beam: 2.3m (7.5ft)
• Deadrise: 20°
• Seating capacity: 7
• Tow weight (approx): 1900kg (4188lb)
• Fuel capacity: 200L (52.8gal)
• Standard HP: 130HP
• Maximum HP: 225HP
ENGINE SPECS
• Make: Honda
• Model: BF200
• Type: SOHC 24-valve V6
• Displacement: 3.58L (0.94gal)
• Weight: 285kg (628.3lb)