SLAB-O-CRAFT 2750 ULTRA CENTERCAB
The Captain gets word that the biggest, most expensive, most decked-out Stabi® has just hit Australian Shores.
In the dawn light, Kyle Briggs' Stabicraft® 2750 Ultra Centrecab XL lurks around Apollo Bay wharf like a hungry predator. It looks all the more menacing courtesy of its forward-raking windscreen and graffiti-style wrap featuring an extremely angry fish-monster. The Captain has been lured to this small south-west Victorian port, halfway along the Great Ocean Road, by the promise of a blue fin-busting trip to the Twelve Apostles — and the chance to experience the biggest, most expensive Stabicraft® ever to depart its Kiwi birthplace for Australia. This metal machine has transcended its fugly platey origins to morph into one spectacularly glam game-fishing beast.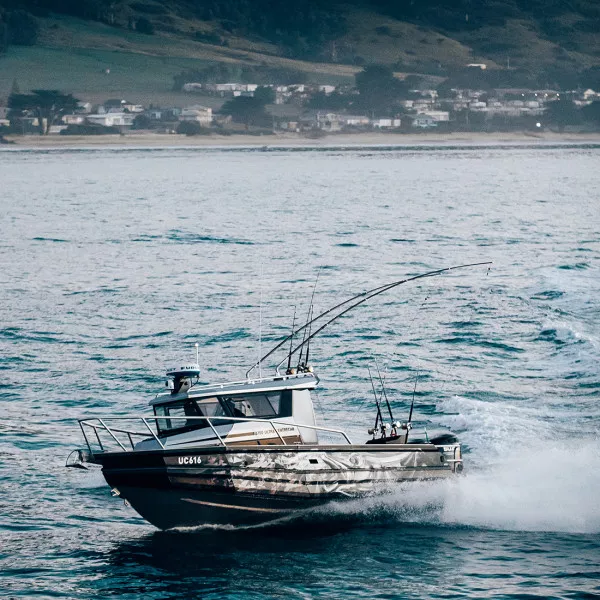 BIG RIG A plumber by trade, Kyle moved to Apollo Bay from Melbourne four years ago and loves it. "It's a beautiful spot under the Otway Ranges, with mountains, forest and sandy beaches," he says. Kyle also loves fishing out of his brand new 2750 Ultra Centrecab XL. "Mostly we're trolling for tuna, but we also catch flathead, squid and whiting," he says. "We go north to chase striped marlin, and during the summer months, cruise around Apollo Bay after crayfish." Having already checked in with Kyle at the Apollo Bay Bakery to stock up on their famous scallop pies — the 2750 has a shiny pie warmer that may have been designed by NASA — The Captain's crew are locked and loaded, aka, awake and not particularly hungover. We watch Kyle smoothly manoeuvre his rig into the wet stuff with a platinum 2018 F250, which Kyle loves almost as much as his boat. Kyle says, "I needed a car like this to tow this boat. It needs to be legal and the LandCruiser wasn't cutting it. It's definitely the biggest rig in Apollo Bay."
GAME ON Once on the water, Kyle runs through a couple of tests before heading out past the lighthouse at Cape Otway and setting course for the Apostles. It's shaping to be a blue-sky morning and a north-easterly is blowing at about five knots. The wind's right behind us, so Kyle drops the hammers on the twin four-stroke Suzuki 250s and we blast along the coast at full speed. At 5600RPM, the Suzis are singing like a pair of drunken V8s at a NASCAR race, rocking it at 75km/h (46.6mp/h). "That was the maximum rating I could get on this boat," Kyle yells. "It took me a bit of convincing, but I'm impressed. Not only do they go real well, but the fuel economy is fantastic." At this point, The Captain's crew are hanging on for dear life as the 2750 powers through the light swell. Kyle is a big unit and there's only one seat in the cabin. The Southern Ocean turns on the scenic photo ops. Unfortunately, it doesn't turn on the fish. We zip past whales and dolphins before trying our luck off Johanna Beach. Then we head down to Peterborough, looking for birds. There's a bit of bait working near the Pinnacles — but no fish. To cheer us up, Kyle busts a few good moves around the Twelve Apostles, getting in close so we can get a few good shots of the Stabi® doing its thing. This collection of rugged 45m (147.6ft) limestone stacks is also a designated marine park, so we can only assume this is where the smart fish are hanging out. An hour or so later, we think our luck is changing when we mark out a bit of bait near Moonlight Head, spotting some school fish underneath. Kyle lets slip his secret for snagging bluefins. "I've always done well on purple lures."
RADAR LOVE However, despite the 2750 bristling with enough electronics to hold a rave party, we can't lob onto those elusive barrels. "I had the Furuno gear fitted out by Gary Jeeves," Kyle says. "We put in a FCV-295 for sounding and TZtouch2 touchscreen for charts, 85 kHz BR transducer, 3-D transducer, FLIR camera and the radar — pretty much everything we need." But it's not enough today. However, with impeccable MasterChef timing, Kyle breaks out the scallop pies and life is good again. Kyle checks the weather, pronouncing the forecast "a bit snotty". So we call time on the fish hunt and head home. One ham-sized hand gripping the helm, Kyle reminisces about his love affair with Stabicraft®. He had his previous boat, a 759, for 10 years. "I've been fishing for about 20 years," he says. "I started out in a Haines Signature Bowrider in Port Phillip Bay, then decided to get a bit more serious with offshore fishing. So I got myself a Stabicraft® 759 with twin Yamaha 150s. I sold that last year when I knew the new 2750 Stabi beast was coming."
His main reason for an upgrade was more fuel capacity to spend more time out on the shelf. "The 759 only had a 375L (99gal) tank. I'd make it home with only 20-30L (5-8gal) spare. Now I'm getting back with 100-150L (26-40gal) left." Kyle also liked the idea of more room to move — on deck and in the cabin. "I wanted a walkaround, more useable room," he says. "The cabin's smaller, but it's handy to be able to use the whole of the front of the boat. You can cast stickbaits off the front and people can even sit up there when we're cruising. I didn't want the cabin doors on the back to be closed off. I wanted it accessible. I didn't need a kitchen or a sink, I'd rather have the extra space." As a bigger guy, Kyle figured extra headroom inside the cabin was a no-brainer, which is why he rates the distinctive forward-raking windscreen. "Water falls off the windscreen a lot easier and the vision is also really good from inside. But it was really about getting more space inside the cabin. And I didn't install a passenger seat, which gives me more room to move around the helm."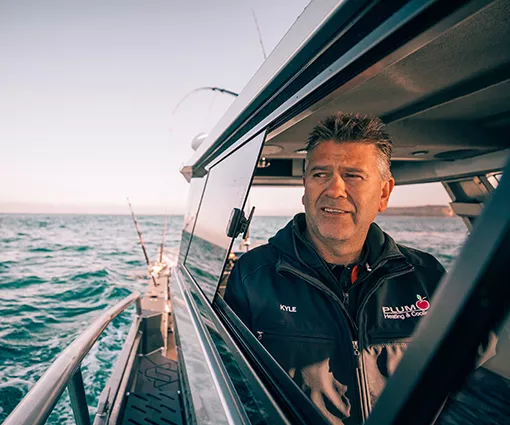 TRUE ROMANCE The 2750 is a sexy beast and Kyle is in lurve. "I love the look of the boat, the style of it. It's pretty unique, different from a lot of boats out there — I didn't want to have something like everybody else had. The lines are sharp and the wrap suits the style. Marine Graphics designed the wrap and Kris Grixti at A1 Signs Designs & Graphics wrapped it for me." During the build, Kyle added and subtracted a few bits and pieces. "I got rails put on the side by the steps and on the back end to help get in and out. I also put a plate across the back underneath the live bait station to stop any fish, sinkers or anything else going underneath — and it's a good spot to keep the gaffs. We put a dive door on the side — bringing big fish aboard through the dive door is a lot easier than trying to drag them over the back." Kyle rates the final configuration and reckons there's nothing substantial he'd change. "The walkaround is great, there's so much room," he says. "The tackle drawer where we keep everything — all the lines, leaders, sinkers, hooks, pliers — what we need is always accessible, the fuel economy, the kill tanks."
IT'S GOT GRUNT Performance-wise, the Stabicraft's renowned ability to keep the water on the outside of the boat is high on Kyle's "Top 10 things I love about my boat" list. "It's a very soft-riding and very dry boat," he says. "You don't get any water or spray coming in, even going through big swells — unless there are strong crosswinds coming through, then we'll get a bit of a splash. When you come down a wave and punch the nose into a big swell you can have a bit of water come over the top of the cabin, but it just runs down the drainage gunwales on the side of the boat. Pushing backwards, there are no issues at all except maybe a little water over the rear step." He's particularly stoked with the big boy Suzuki's. "They have lots of torque and they're cheap to run — averaging 0.8L (0.2gal) to the kilometre (0.6mi)," he says. "There's not a lot of noise or vibration, except when the throttle's wide-open. Running at 4000 revs we're burning about 70L (18.4gal) an hour. Wide-open at 5600 revs, it's about 173L (45.7gal). A typical day for me chasing tuna, we'll do 50–300km (31–186mi) and burn 100–300L (26–79gal) of gas. I'm covering a lot of ground with that, so I'm pretty happy."
TOUGH ENOUGH The Stabi's legendary stability and toughness is a big plus, particularly in the wild waters of the Southern Ocean. "I just feel safe in it," Kyle says. "The Stabi is amazingly stable — you can have four people on one side and it just tilts a little. I went with the foam-filled pontoons, which also keep the boat a lot quieter. And it's a tough boat with that 6mm (0.2") plate on the bottom. I'm really impressed with the construction and weld quality. They say Stabis don't sink, even if you fill them with water. Obviously, I don't want to test it out, but it gives you peace of mind knowing they're built like that." As we come around Cape Otway, the light wind is going against the tide and the sea is turning nasty. We're surprised at how rough it's got in a short space of time. "The conditions can be fairly ordinary out here off Cape Otway," Kyle says as we charge back into Apollo Bay. The Captain's crew heartily agree, while chowing down on a couple of straggler scallop pies as Kyle and long-time fishing mate and deckhand Ian clean up the boat and gear. Kyle reckons his romance with his new 2750 has only just begun. He wants to do a lot more trips out to King Island. "I'd like to do a bit more adventuring over there. And I'd like to do a trip over to Tasmania — that's on my radar for January–February next year. We'll get ourselves packed up and spend a couple of weeks going from port to port, refuelling as we go." The Captain's go bag is always packed and rod ready. Just saying."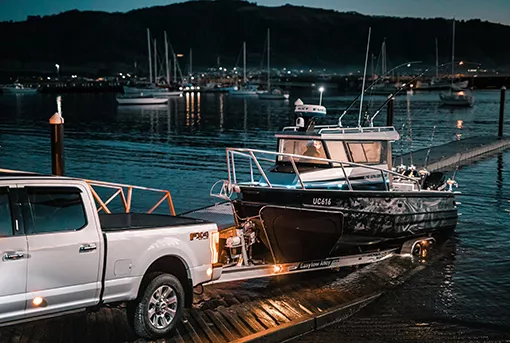 SPECIFICATIONS
• Length: 27.5ft (8.4m)
• Beam: 2.49m (8.1ft)
• Deadrise: 21.5°
• Maximum Adults: 9
• Dry-hull Weight (approx):
1990kg (4387lb)
• BMT Weight (approx):
3500kg (7716lb)
• Fuel Capacity: 500L (132gal)
• Standard HP: 300HP
• Maximum HP: 500HP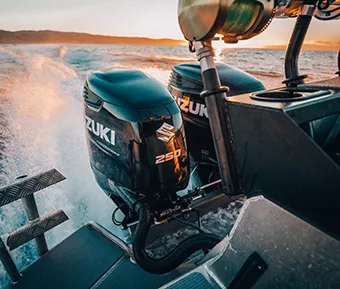 engine specs
Make: Suzuki
Model: DF250AP
Type: V6
Displacement: 4L (1gal)
Weight: 290kg (639lb)