A Baffling story.
Previously known as foam-filled pontoons, Closed Cell Baffling is an innovation unique to Stabicraft®. Polyurethane liquid is injected into Stabicraft's airtight chambered life ring. Within minutes the fluid expands, creating a closed-cell, water-tight foam and becoming a noise-reducing barrier between you and the ocean. The sound of water moving against an aluminium hull has long been a noisy issue. In 2015 Stabicraft® set out to silence this issue; however, it was a much more scientific problem than previously perceived.
Stabicraft® chose strategic partner FI Innovations, an industry disruptor in finding abstract applications for all kinds of composite materials. FI Innovations are leaders in their specialised field of work, with clients from the aerospace and medical sectors. FI Innovations have been one of Stabicraft's longest-serving supply partners and were instrumental in helping the throughput of some of Stabicraft's earlier models.
The Goal.
Stabicrafts goal was to engineer a quieter hull while underway or at rest by baffling the chambered life ring, thereby giving owners a much better on-water experience. The brief was to find a solution that was lightweight, non-reactive, moisture resistant, strong, long-lasting, eco-friendly, sustainable, fire retardant, and chemically stable under all temperatures. After multiple options were explored, custom polyurethane closed-cell baffling was identified as the best solution.
The Polyol component of the baffling utilises recycled plastic bottles and renewable materials. Due to the low energy production, recycled materials and zero lifecycle, the product has a low carbon footprint. The product is CFC free, HCFC free, HFC free, and does not contain any formaldehyde. The closed-cell baffling held other secondary benefits to owners, from insulation in cold climates to an added layer of buoyancy protection. In the unlikely event, a chamber in your life ring is compromised, the polyurethane cell will hold the same buoyancy keeping you afloat.
THE SECRET formula.
The chemical ratios of Stabicrafts Closed Cell Baffling have been modified to ensure it can withstand the harsh marine environment. While the baffling is protected inside the airtight chambers, there are still considerations to be made. The mixture of saltwater and aluminium creates a corrosive environment if not carefully managed through design. Aluminium itself "sweats" through temperature fluctuations which means moisture is present inside the airtight chambers. As such, Stabicraft's Closed Cell Baffling has had chemical moderations to ensure a robust, non-reactive, and long-lasting stable solution - one that will outlast its owner.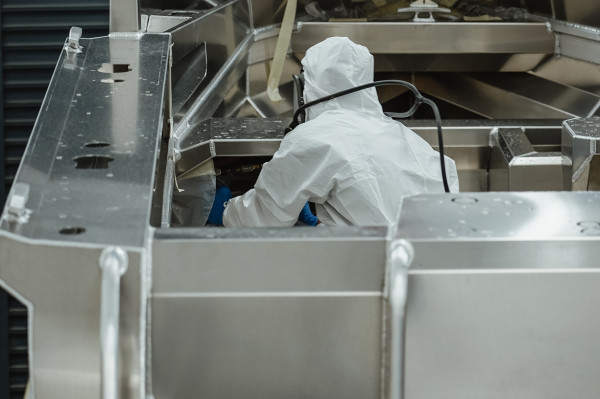 Further modifications were made to the formulation ensuring proper insulation, which involves injecting the solution through a valve into the chamber and then enduring a baking process that hardens and seals the baffling. The hull is rotated to a very particular angle with the chemical formulation set to transfer the solution from liquid to solid at just the right moment, ensuring it is spread correctly throughout each chamber. The chambers are then sealed airtight at the correct pressure to withstand temperature valuations.
The high level of testing and thorough detail that has been developed for this process is critical to the boat's longevity. This baffling is unique to Stabicraft in every aspect. Standard foam solutions have a reputation as being particularly insufficient in a marine environment. Over time generic foam solutions become waterlogged, creating all sorts of problems in the lifecycle of a boat. Polystyrene and many other solutions are also notoriously environmentally unfriendly.
a BAFFLING WORLD FIRST.
Stabicraft's Closed Cell Baffling is yet another example of market-leading innovation, exclusive in both chemical engineering and product design. It remains a world first in reducing hull vibrations and noise. Less banging for your buck, through big water, small chop and at rest. Closed Cell Baffling represents another step-in evolution for the Stabicraft® brand. Adventure with Confidence™, but not at the expense of comfort.