1550 FISHER IN ARIZONA, USA
When the word came through from Stabicraft® HQ that a 1550 Fisher had been spotted in the middle of the desert, The Captain was forced to investigate.
Lake Powell is a 658sq km (254sq mi) manmade reservoir on the Colorado River, straddling the border between Arizona and Utah in the US. It is possibly not the first place you'd expect to find a Stabicraft® 1550 Fisher. It certainly isn't where you'd expect to run into The Captain's crew.
Long story short: When retired surgeon Gordon Chait decided to spend his golden years pestering fish, he needed a new boat. After considerable research, he decided a Stabi® would suit his needs perfectly. It took him a while to track one down. A few months later, he contacted Stabi® HQ in New Zealand to see if he could order a swim ladder for his new toy. The folks at Stabicraft® were gobsmacked to hear one of their babies had made it to the American Southwest. As The Captain's crew was already en route to check out the Stabi® salmon fishers of Oregon, they figured, what the hell? So the boys were ordered on a desert diversion for a few days to check out Gordon's new ride.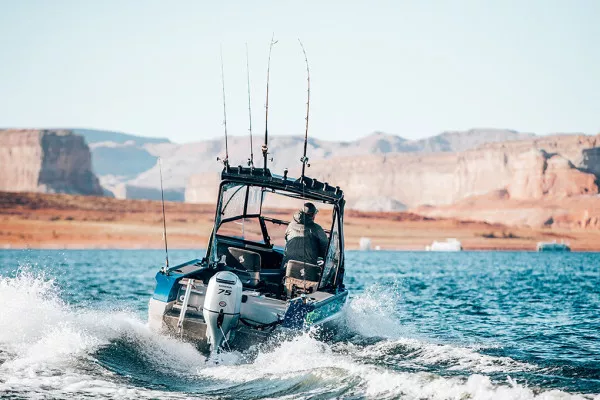 INTO THE DESERT It's a bit of a mission but starts off cruisy enough as Gordon collects The Captain's crew from Phoenix Airport, his blue and green Stabicraft® already hooked up behind a Toyota Tundra pick-up, destination: Lake Powell, a five-hour drive. Then we hit traffic, a lot of traffic.
What seems to our jetlagged brains almost three years later, we're munching on burgers in Flagstaff, which we learn is just the halfway mark. At 900m (2952ft) above sea level, it's a little cooler than Phoenix, a bracing 14°C (57.2°F).
Back on the road, we keep climbing, the Tundra effortless eating the hills. As darkness falls, Gordon happens to mention he doesn't see that well at night. We take turns to keep him talking and eventually reach Lake Powell around 8.30pm.
The Captain learns a fair bit about Gordon during that drive. He's a 72-year-old South African from Cape Town who's been living in Phoenix since the '80s. After a bike accident ended his career as an ear, nose and throat surgeon, then a heart attack gave him another scare, he decided life was too short not to be doing what he really loved — getting out on the water and fishing. For that, he needed a boat. "I used to fish off the rocks as a kid in Cape Town," Gordon recalls. "As a teenager, I built myself a boat with a little engine from a plan in Popular Mechanics." (Captain's note for millennials: this was a magazine kid used to learn about DIY, science and tech back in the dark ages, pre-internet.)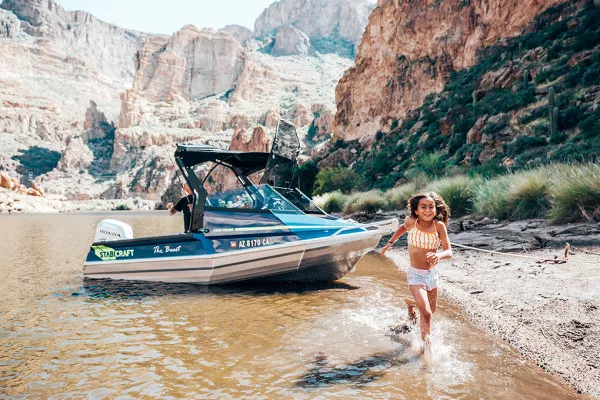 so many boats, so little tiMe Since those early days, Gordy has commanded quite a few vessels, including various inflatables. "After I came to the US, I had a couple of Boston Whalers. They're safe boats, but not too comfortable in rough weather," he says. "Then I bought a 5.7m (19ft) Mako, but didn't love it, so I bought a 7.3m (24ft) Skipjack flybridge. That was an outstanding boat — very safe and a great ride. I sold that then didn't have a boat for quite a while."
When Gordy finally decided to buy another boat he came across Stabicraft® totally by accident, in a rum-stained issue of The Captain, he laughs. "I had a 4.6m (15ft) Highfield RIB with a Honda 75, but there wasn't enough space for fishing, no storage and the freeboard worried me out in the ocean. I wanted a dedicated fishing boat to take out on the lakes, but also to go offshore in San Diego or Mexico. I was also interested in the Frontier model, but they don't import them to the US."
While visiting his brother, Gordy tracked down what was to become his Stabi® at a boat dealership in Everett, Washington. He's still a bit embarrassed by his rather in your-face choice of paint scheme. "It's Seattle Seahawks (NFL) colours and I'm a St Louis Cardinals fan, so I try to block it from my mind," Gordy says. "They only had two boats left. I took one for a test drive, liked it and they were happy to sell it without an engine. I'd kept my Honda 75, which is a good power for this boat, especially with three or four people aboard, bait tank full of water and a tank of gas."
MAKING THE CUT At 5.30 the next morning, we're dressed in every bit of clothing we own yet still freezing our balls off when Gordy collects us for the drive to the boat ramp via a bait shop where we collect some — appropriately — frozen anchovies. He informs us the temperature is around three degrees C (37.4°F). The sun can't come up soon enough.
Gordy tries to distract us from our self-pity with a Lake Powell travelogue. One claim to fame is that it was the location for filming Planet of the Apes in the 1960s. "It's like nowhere else on Earth, such a unique landscape with these huge sandstone mountains with flat tops called mesas — 'table' in Spanish," he explains. "The water is intensely blue because we only get clouds in Arizona during thunderstorms. In the shallow canyons, the water is so clear you can actually see the fish."
With a shoreline of nearly 3200km (1988mi), Lake Powell is one of the largest man-made lakes in North America and was built in the 1950s as part of a controversial hydroelectric dam system that submerged many Native American archaeological sites. With a maximum depth of about 180m (590ft), it features numerous narrow canyons and is now an extremely popular fishing and recreational boating destination visited by about two million people each year.
"You see every type of watercraft here in summer — from houseboats, kayaks and jet skis to wake boarding, water-skiing and paddleboarding," Gordy says. "Then there's the fishing, including bass tournaments."
Apparently, the lake was stocked with so many striped bass in the 1960s that for a while they upset the balance with other species. Gordy says the upshot is there is no limit on how many you can take. "There a lot of striped, small mouth and large mouth bass, also pike, walleye, sunfish, crappie and shad baitfish. And lots of catfish." At this point, we're in the Stabi® attempting to make our way out to the main part of the lake via a narrow cut that is proving a bit hard to find, especially since we get distracted by almost immediately running into a large school of baitfish. On the plus side, it's warming up.
"This is where local knowledge is important," Gordy says."If you don't know where the cut is you can spend hours going up canyons trying to find it."
After a close encounter with a houseboat, we squeeze through the cut and out into the lake without scoring more abuse. The lake is so vast, with so many canyon offshoots that it's easy to get lost. Fortunately, Gordy is happy to go old-school and a trusty chart soon gets us sorted. We can spot bait-fish and a few big boys on the screen, but the water is so clear we can watch fish chasing the lures down. We catch quite a few smallmouth bass on soft plastics, but Jack from The Captain's crew turns out to have the most luck late in the day. "He hooked two striped bass with anchovies on a slightly weighted hook, just casting it out and letting it drop was really effective," Gordy says. "Nick the cameraman used a little popper on the surface with a Zebco reel and caught a few smallmouth. It was pretty cool to get some from the bottom, some from the middle of the water column and a few from the surface. Overall, the frozen anchovies seemed to work better than the plastics today."
THE NAME OF THE BEAST At one point we find ourselves venturing up a high-walled canyon so narrow it almost hugs the boat. Gordy shuts the engine off and lets the wind push the Stabi® along. "Fortunately the sandstone is very soft," he says. "It won't damage your boat, just dirty it a bit — but the aluminium deck is easy to keep clean. It's also surprisingly OK to walk on when we get hot summer days in excess of 110°F (43°C)."
A little later, The Captain's crew were getting a few action shots from the shore when Gordy blasts towards them before throwing the Stabi® into a tight turn. "I was on the driver's side, then suddenly I was on the passenger side with my legs in the air, still holding the steering wheel," he laughs. "It was an interesting experience."
It's getting dark as we head back to the ramp, Gordy enlightens us as to why his Stabi® rejoices in the name of The Beast. "My eight-year-old granddaughter loves coming out on the water with me. The first thing she said when she saw the Stabicraft® was, 'That boat looks like a beast!'"
He says the Stabi® always attracts attention. "Everywhere I go it takes me a long time to actually get on the water because people want to talk about it — especially guys with big boats! One time I was out fishing off La Jolla and didn't realise I was in a fish sanctuary. The Coast Guard turned up, but were more interested in asking about the Stabi® than giving me a hard time for fishing in a restricted area."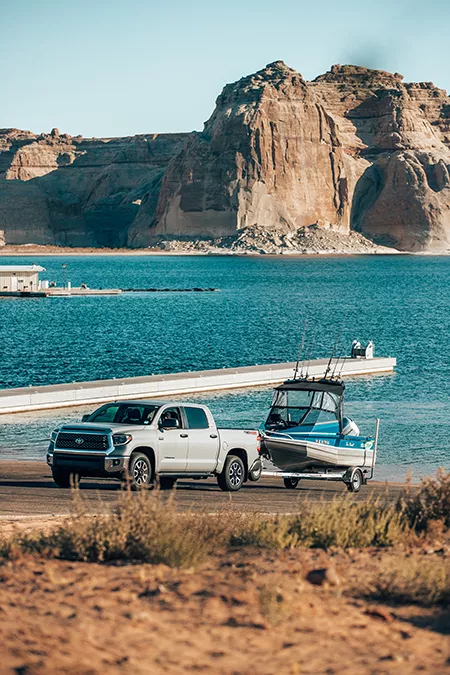 EASY RIDER Once everything is squared away, and despite our intriguing aroma of sweat and bait, we check out a local Mexican restaurant, pigging out on steaming hot chicken and fish fajitas. We agree Mexican beer is some of the best in the world. Over a Dos Equis or three, Gordy tells us how to make the excellent biltong (jerky) we were munching out on the water. "The secret to perfect biltong is to use really good meat, a good spices combination — and preferably get someone else to make it for you."
That crucial piece of information out of the way, he then expands on why he loves his Stabi® Beast so much. "The design is so good — it's got a lot of fishing space and a high freeboard and transom so it feels safe. It's also a very dry boat. Any water that gets in is picked up by the bilge pump so all the storage stays dry — and there's a lot of storage all over the boat and under the gunwales. The dual batteries are raised off the floor so they keep dry as well. And the Arrow foam-filled pontoons not only make it a safe boat, but also very stable to stand on the gunwales to fish. It adds a little bit of weight, but also deadens sound."
Gordy also loves how the Stabi® rides, especially in the following sea. "I was out by myself off San Diego recently, with a storm coming in from Mexico. Coming back was unbelievable. I was riding pretty fast down these huge swells and the boat just sat on top of the water. There was no worry that the nose would dive or that I would broach."
The Beast has a built-in 60L (15.8gal) tank and Gordy has added his own bait system. "It takes half a scoop of sardines or anchovies I buy from a bait barge," he boasts. "My bait table is circular and set up in front of the engine, so doesn't get in the way and you don't bump into the corners. I can filet and then send the bait straight overboard. The bit of extra weight is hardly noticeable."
Gordy runs a four-speaker Fusion stereo and is — as The Captain's crew painfully discovered — rather partial to good ol' boy music. "The fish always want to listen to a bit of country and western and we can do that," he says."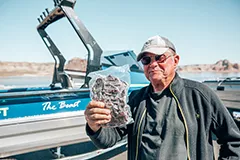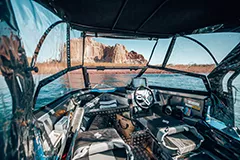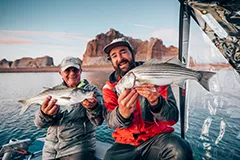 SMALL BOAT HEAVEN Several beers in, Gordy's faith in his trusty Stabi® steed remains unshakable. "Today I had three adults on board and camera boxes all over the deck," he says. "At one stage, when the fish were biting, it was like controlled chaos — shit all over the place. But the boat cleans up real easy."
One of his favourite features is the access to the bow via the hydraulic windscreen. "I often launch and retrieve the boat by myself, so I like how easy it is to get to the bow."
Asked to describe the Stabicraft® Fisher 1550 in five words, Gordy comes up with: "Good design, safety, looks, easy to maintain, just a great boat. I like being out on the water, always have. I also enjoy being out on the ocean by myself. I don't often see boats smaller than mine, but safety isn't a concern because of the way it's built. And it's easy to tow and fits in my garage."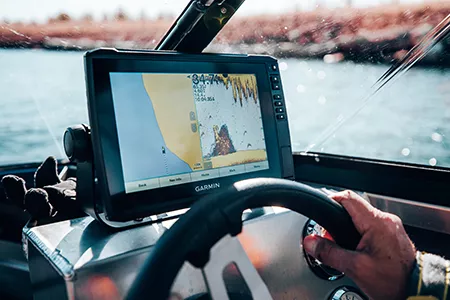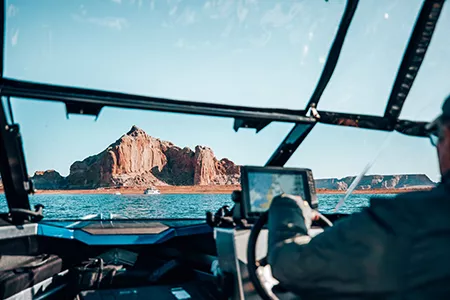 GO, GO GADGET As a retired surgeon, Gordon is no stranger to the world of gizmos and gadgets. After doing a fair bit of research, he decided that a four-speaker Fusion system, a Garmin VHF radio and a Garmin Echomap Ultra 105sv with GT54UHD-TM transducer was the best fit for his Stabicraft® 1550. The sunlight-readable 10-inch screen fits neatly on a bracket mount on the driver's side dashboard and offers awesome visibility, even when Gordy is fishing down the back of the boat.
During our session on Lake Powell, we marked huge schools of bait surrounded by bass, as well as sunken wrecks and steep drop-offs. Using the sounder, Gordy was able to put us on a drift right along the edges of these zones so we could fire lures and drop down baits.
Now you'd probably think Gordy's favourite feature would be the all-in-one transducer with CHIRP, ClearVü and SideVü scanning sonar? Or how about being able to create personalised fishing maps with the Quick draw Contours software? Nope, Gordy's numero uno feature is the quick disconnect bail mount that lets him install and remove the unit with a flick of the wrist — no more fiddling with cords and plugs. It's the simple things, eh?
The Echomap also supports the optional Panoptix LiveScope LVS12 transducer, without requiring a black box. This means Gordy gets to take advantage of Garmin's live-scanning technology, which shows the fish swimming in real time. His only criticism of the unit is that the long transducer caused a bit of a rooster tail off the back of his 1550. No problem. He went down to Home Depot, bought a PVC toilet fitting, cut it in half and mounted the top section above the transducer. Problem solved.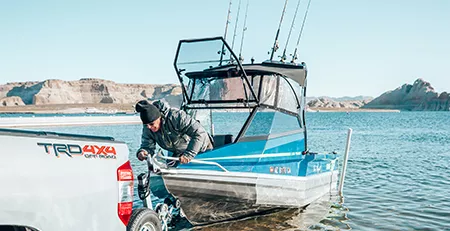 SPECIFICATIONS
• Length: (15.5ft) 4.72m
• Beam: 6.6ft (2.02m)
• Deadrise: 15°
• Seating capacity: 5
• Dry hull weight (approx): 915lb (415kg)
• Fuel capacity: 15.8gal (60L)
• Standard HP: 50HP
• Maximum HP: 75HP