THE NEWLY CRAFTED 1850 FISHER RANGE
Stabicraft's newly designed 1850 Fisher has undergone some serious innovation offering customers much MUCH more.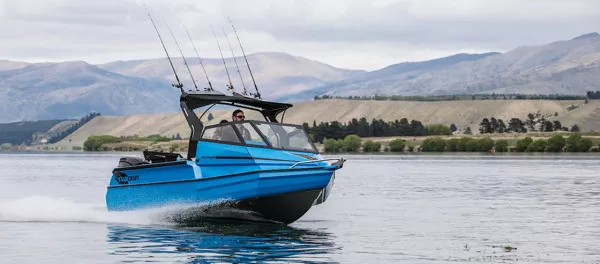 Stabicraft's new 1850 Fisher offers boaters more beam, more stability, more space, more bow access, more fuel capacity, and more choice in package configurations. There are now multiple 1850 Fisher packages to choose from to suit your style of boating. Each package has varying specifications and multiple options to choose from allowing you to customise to your preference. Whether you're out fishing with the kids, skiing on the lake or offshore with your mates there is a package to suit everyone.
"The new 1850 Fisher is an important model suiting a wide range of customers. It HAD to improve on its predecessor's versatility giving so much MORE in functionality, space and design." – CEO Stabicraft®, Paul Adams.

The new 1850 Fisher range has been crafted with an environmentally considerate hull. Since the US-based Environmental Protection Agency (EPA) imposed strict regulations on fuel emissions every US-bound vessel has had to fall in line. For Stabicraft®, it's been a breath of fresh air. Knowing our 1850 Fisher fuel tanks are EPA compliant not just in the US but ALL of our global markets is another step towards ensuring future generations get to enjoy the water as much as we have.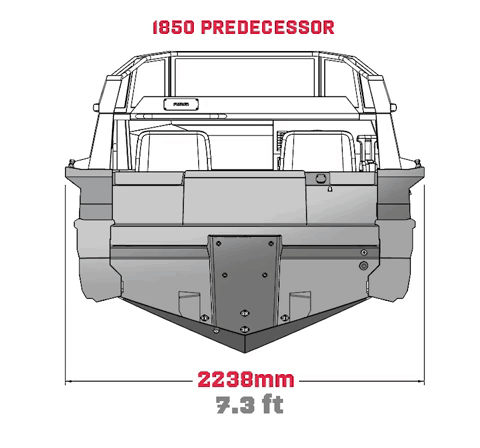 "[The 1850 Fisher offers] so much more in functionality, space and design"
While we're on the subject of fuel the new 1850 Fisher boasts a huge 150L (39.6gal.) of optional fuel capacity. That's an increase of 30L (5.2gal.) from its predecessor and one of the best in its size class. Not only can you now adventure further, but also make that run home again with less fuel capacity concerns.
The MAJOR upgrade the new 1850 Fisher has over its predecessor is space. The new 'Wide Body' hull gives boaters much more cabin and deck space PLUS more stability and on the water performance. The new 1850 Fisher is a seriously SAFE and stable platform for you, your family, and your friends.
The new 1850 Fisher pays homage to the hugely successful 1550 Fisher and its walk-through windscreen. While increasing visibility and cockpit space, it opens up crucial access to the bow. The walk-through windscreen creates an ideal loading, un-loading, casting and anchoring point when adventure is in progress.

The new 1850 Fisher is a boat with a lot more of everything, including CONFIDENCE. The ability to 'Adventure with Confidence' has been the main feature of every Stabicraft® over the last 32 years. It is our heritage, our purpose, and our legacy. CONFIDENCE is a feature we aim to improve with every new Stabicraft® model. It's a feature you can't see in the showroom. And it's a feature you don't know you need until the weather turns and you have to get your crew home.

The much anticipated new 1850 Fisher specifications, pricing and feature sets will be launched over the following weeks. To be one of the first customers in the world to view and own one please contact your local Stabicraft® dealership.