Sweet Escape in the 1550 fisher
Meet Ethan Schwab, now on his second Stabicraft. Ethan shows how he uses his boat when he can't escape the city midweek. His partner Amira explains why the 1550 Fisher is a great learning platform! Growing up in Pacific Northwest jet boating, Ethan Schwab is no stranger to back county wilderness adventures, but living and working in the city, the ability to quickly get on the water makes all the difference.
Passionate about diving, Ethan spent years researching a suitable boat and found nothing as safe and stable in a small package as a Stabicraft boat. Purchasing a Stabicraft 1410 as his first boat, he took it everywhere for years; he even took it out in the snow! Whilst remodelling their home, the couple had more room and saw it as an opportunity to own a slightly larger boat with more enclosure, protecting them from the elements.
Opting for the 1550 Fisher, Ethan and Amira couldn't be happier. The enclosure protects them from the winter elements, allowing them to go boating all year round. It also fits perfectly into the designated area they designed for the boat!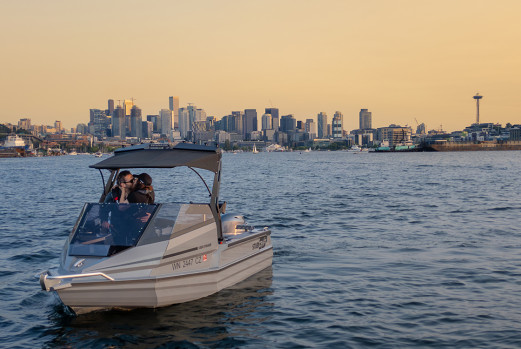 One of the standout features of their Stabicraft is its user-friendly nature. Amira, who recently got her boat license, mentions how accessible the boat is for beginners. The boat's design gives those at the helm clear visibility over the bow, making it easier to navigate through the maze of kayaks, sailboats, paddleboards, and hot tub boats in Seattle waters. The visibility has built her confidence in handling their boat. Another advantage for the couple is the boat's low maintenance. It's always ready for action, whether a spontaneous city escape or a planned camping trip. With two people, it's effortlessly manageable.
Talking with Amira, she found that sharing a boat was a good test of a relationship. It isn't just about enjoying the water together; it's also a test of collaboration, patience, and love. Learning to drive the boat, navigating it, and tying it up requires teamwork, and in the process, it strengthens their bond.
Experimenting with "wake paddle boarding," a unique twist on wake surfing, Ethan and Amira appreciate that the boat brings out their playful and adventurous side. The couple's beloved dogs are also no strangers to the Stabicraft experience. With their specially designed boat shoes for traction, the dogs love hopping onto the boat, peering over the edge, and taking in the sights at "dog face level." The 1550 Fishers' ease of cleaning makes the boat pet-friendly and practical.
Ethan and Amira's story showcases the advantages of owning a Stabi. With its user-friendly design, versatility, and unwavering reliability, Stabicraft offers them countless unforgettable experiences and opportunities to escape the city's hustle and bustle.